Read a blog post to easily create a form and embed it in WordPress. Check out a ready-to-use solution with a variety of responsive templates.
How to Create Form for WordPress in Minutes
Form building for WordPress is the best way to collect useful information from your visitors online. This guide will cover the basics of how to create and insert an effective and functional form into WordPress web page quickly, easily and for free. It will explain why forms are so useful for businesses, what types of forms you can create, how to test your forms before going live, and more. Also, you will be able to get acquainted with Elfsight Form Builder widget – a code-free ready-made solution to streamline the process of form creation.
Create custom WordPress forms in a flash
Register on Elfsight and choose Elfsight Form Builder widget.
Create your form by selecting a template or starting from scratch.
Add fields and customize the design of your form in the online creator.
Configure the form's settings (notifications, submission actions).
Embed the form on the needed page or template using the HTML code.
Test the form in WordPress to ensure it's working correctly.
Wasn't that a breeze to build and add? After a few moments, you can see your free custom form up and running in WordPress!
How Can You Benefit From Using Form Builder in WordPress
Elfsight Form Builder is a powerful widget that enables you to create and insert custom forms into your WordPress web page with ease. With a range of templates provided in form generator, flexible customization options, and integrations with popular services, Elfsight Form Builder is the best solution for WordPress businesses and website owners who want to capture leads and build user engagement.
Here is a table with 10 benefits and top features of Elfsight Form Builder:
| | |
| --- | --- |
| Interactive builder interface that requires no HTML code knowledge in WordPress | Elfsight Form Builder is designed to be intuitive and user-friendly. You don't need any HTML code knowledge to create interactive and functional forms and insert them into WordPress. |
| A wide range of free widget templates to choose from for any use case | Elfsight Form Builder provides a variety of templates to choose from to suit your WordPress website needs best. Whether you need to build a simple contact form or a more complex survey, Elfsight form widget has you covered. |
| Responsive template customization options to build a match with your WordPress website's design | You can customize your interactive forms' design to match your website's look and feel. In the online creator, you can change the template colors, fonts, and backgrounds to create a seamless user experience. |
| Mobile-friendly forms that look top on any device | All WordPress forms created with the Elfsight Form Builder are mobile-responsive. This means they look top on any device, from smartphones to tablets to desktops. |
| Builder's integrations with top email marketing services and CRMs | Elfsight Form Builder integrates with popular email marketing services and CRMs like Mailchimp and Google Sheets. This makes it easy to manage your WordPress leads and automate your marketing efforts. |
| Anti-spam protection | Elfsight Form Builder has built-in anti-spam protection to prevent unwanted submissions in WordPress. This ensures that only legitimate online submissions are sent to your inbox. |
| Ability to add automatic notifications | Through the widget generator, you can set up automatic notifications to be sent to your email when you receive a new WordPress form submission. This ensures that you never miss an important lead. |
| Multi-page forms for WordPress | Multi-page interactive forms allow you to break up lengthy forms into smaller, more manageable sections. This builds better user experience and reduces form abandonment rates. |
| Affordable pricing plans | Elfsight Form Builder offers a range of pricing plans to suit your needs and budget best. There's even a free plan with basic widget features that you can use to get started in WordPress. |
Detailed Guide to Adding WordPress Form
Creating a form for your WordPress website does not have to be complicated. With the help of Elfsight form creator, setting up an effective and functional form for WordPress is easy even for users who never dealt with HTML code. The Elfsight creator allows you to effortlessly make and embed personalized forms that cater to your particular requirements, even if you have no prior special knowledge.
You can create and add a responsive custom plugin to your WordPress website for free without any complexity, even if you are unfamiliar with code:
Once you build and embed the plugin, it will automatically perform online in WordPress without any additional effort.
Moreover, it is possible to make any adjustments to the form directly in the Elfsight online plugin creator without editing your platform HTML code.
The best part is that there are no charges for configuring the design and functionality of the custom plugin via Elfsight online creator.
For visual guidance on how to embed the responsive plugin in WordPress, please watch the accompanying video:
Additionally, check out a detailed guide in text format to help you get started with form creation for WordPress:
Go to the Elfsight admin dashboard and from there choose the Form Builder plugin.
Select a ready-to-use template or start building your unique WordPress form for free.
Customize the form according to your requirements using the various options available in the online form creator.
After customizing your form, copy the custom installation HTML code for your plugin.
Log in to your WordPress homepage and decide where you want to embed your form.
If you choose to add the form to a specific page, follow these steps:
Select the desired WordPress page.
Hover over the location where you want to embed the form.
Click the 'Plus' icon.
In the 'Formatting' section, locate and click on 'Custom HTML.'
Embed your plugin installation HTML code into the window that appears.
Click the 'Update' button to save your changes.
Congratulations! You have successfully added the interactive plugin to a specific page of your WordPress website.
If you would like to add your form to all pages of WordPress website, there are various ways to do it depending on your theme. Here are three best options to consider:
Adding the form via Theme Editor
This option involves editing the PHP code of your WordPress theme. You can access the theme editor under the "Appearance" tab in your WordPress dashboard. Once you're in the online editor, you can locate the header.php or footer.php file and add the installation HTML code for the form at the end of the file, just before the closing [/body] tag.
Adding the form via Widgets option
This option involves using the Widgets feature in WordPress. You can access the Widgets option under the "Appearance" tab in your WordPress dashboard. Once you're in the Widgets screen, you can drag and drop the form to the desired area. You can then configure the advanced form settings and select the option to embed it on all pages.
Adding the form via Customize option
This option involves using the Customize feature in WordPress. You can access the Customize option under the "Appearance" tab in your WordPress dashboard. Once you're in the Customize screen, you can navigate to the Widgets section and select the area where you want to add the form. You can then add the form and configure the settings to display it on all pages.
That's it! Now you can create and embed a custom form in your WordPress website using Elfsight form creator without any coding experience.
Variety of Form Types to Create With Elfsight Widget
Elfsight Form Builder widget is a comprehensive tool that enables you to create diverse types of customizable WordPress forms, such as online quizzes, surveys, contact forms, and more. The widget's interactive interface and robust features make it an ideal solution for WordPress businesses seeking to gather leads, automate their workflows, and optimize their processes with ease.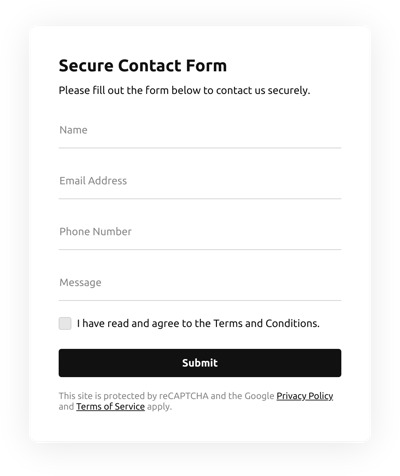 Here are some potential use cases for using Elfsight Form Builder in WordPress:
| | |
| --- | --- |
| WordPress Contact Forms | Embed a responsive contact form in WordPress to allow customers to easily contact you with questions or inquiries online, which can help improve customer service and increase engagement. |
| WordPress Order Forms | Use an order form to facilitate online purchases without the need for customers to leave your WordPress website, providing a seamless user experience that increases conversion rates. |
| WordPress Registration Forms | Embed a registration form to collect information from attendees for an event, webinar, or course that you're hosting in WordPress, allowing you to easily manage online registrations and communicate with attendees. |
| WordPress Feedback Forms | Use a responsive feedback form to gather feedback from customers or WordPress website visitors about your products, services, or website, which can help improve your offerings and increase customer satisfaction. |
| WordPress Surveys | Embed a survey to conduct market research, gather customer insights, or collect feedback from WordPress website visitors, which can help you make more informed business decisions and improve your offerings. |
Choosing the Right Fields for Your WordPress Form
Adding the right fields to your WordPress form is essential for creating an advanced and functional form. Depending on the purpose of the form – collecting contact information, evaluating customer satisfaction, gathering feedback or something else – you will need different fields to be able to ensure that all the data your business needs is captured.
Using a tool like Elfsight form maker, you can create custom forms with fields tailored to your specific needs for free. The widget creator includes several responsive field types, like text fields, drop-down lists, checkboxes, radio buttons, file uploads and more. With this wide range of options available, it is easy for businesses to select precisely the fields they need for their WordPress form.
There are also advanced options available within each field type – like options for configuring input masking and multi-select settings – that allow businesses more control over how their responsive form looks and behaves. Additionally, you can choose from an extensive selection of themes tailored specifically for WordPress forms so they match your business's branding across all channels.
Life Hacks for Customizing Your WordPress Form
Customizing your WordPress form is essential to ensure that it meets your specific needs and provides a seamless user experience for your website visitors. By customizing your form with clear and concise instructions, user-friendly design, and personalized fields, you can increase the likelihood of form submissions and conversions in WordPress.
How do I customize the WordPress form I created?
Choose the right WordPress form type, depending on what information you want to collect from your visitors. Elfsight form maker offers a variety of form types, as discussed earlier, so choose the one that fits your specific requirements.
Add or remove form fields, such as text fields, dropdowns, checkboxes, radio buttons, and more, or remove fields that are not relevant to your needs. By customizing your WordPress form fields, you can collect only the information that is relevant. This can help you make better decisions and streamline your workflow.
Customize the template design, for example, colors and fonts, and add your logo or background image to build a match with your WordPress website's branding and style. Customizing the design of your form can help create a cohesive user experience. This can also help build trust with your visitors and increase the likelihood of form submissions.
Set up notifications to receive emails when someone submits a form in WordPress. You can also customize the message that appears after a form is submitted.
Use reCAPTCHA to protect your WordPress forms from spam and abuse. This helps ensure that the responses you receive are genuine.
Integrate the form with other tools such as Google Sheets, Mailchimp, and Zapier. This allows you to automate your workflow and streamline your form submission process.
By following these tips, you can customize your WordPress form to suit your specific needs and create a seamless user experience for your visitors.
Tips for Adding WordPress Form (for Code Beginners)
In this section, discover how Elfsight form plugin can reduce time needed for learning to code. With the plugin, you can add forms to WordPress within minutes. Read all code-connected frequently asked questions and some common ones to make sure it is much easier than you've thought:
What is HTML code? How do I add HTML code to WordPress?
If you're interested in adding forms to your WordPress website, you may have heard the term "HTML code" and wondered what it means. HTML, or Hypertext Markup Language, is a programming language used to create websites and web pages. It is the standard language used to structure content on the internet, and is what makes websites look the way they do.
Adding HTML code to your WordPress site is easy, and can be done using WordPress's built-in editor or a third-party plugin. While everything connected with code may seem intimidating at first, it's actually very straightforward and easy to work with once you understand the basics. If you're new to HTML code or unsure about how to add it to your WordPress site, there are plenty of online resources and tutorials available to help you get started.
Is Elfsight form maker easy to use?
Yes, the plugin is extremely user-friendly and easy to use. With just a few clicks, users can create and insert forms into their WordPress web page without any HTML code knowledge. The form maker comes with a range of templates and themes that can be customized to match the look and feel of your WordPress web page.
How does Elfsight Form Builder integrate with my WordPress site? Is it a plugin or do I need to know HTML code to use it?
Elfsight Form Builder is a plugin that doesn't require any HTML code knowledge. The plugin offers a user-friendly interface that makes it easy to create custom forms. The plugin integrates with your website using a simple HTML code that can be easily added to your website's HTML code.
Does the Elfsight form generator provide HTML code?
Yes, the Elfsight generator provides HTML code automatically, which can be easily added to your website.
What is a shortcode and how do I use it with the Elfsight form plugin?
Elfsight form plugin allows users to easily create and embed forms into their website using shortcodes. A shortcode is a small piece of HTML code that can be used to embed a form in a website. This custom HTML code can be copied and pasted into any page or post in WordPress.
Can I customize the HTML code provided by Elfsight form generator?
Yes, you can customize the HTML code provided by Elfsight generator to fit your website's design and functionality.
Can I use the HTML code of the plugin on multiple websites?
Yes, you can use the HTML code to embed the plugin on multiple websites with just one installation.
What are the pricing options for Elfsight form generator?
Elfsight form generator offers a range of plans to suit any budget. The basic plan is free and includes access to all the basic form plugin features, while the advanced plans include more advanced features such as custom CSS, and more.
What are the reviews like for Elfsight form generator?
How can I see the results of my forms with the Elfsight form plugin?
Elfsight Form Builder allows users to view the results of their forms directly within the plugin. The results can be viewed in real-time, and users can export the custom data to Excel or CSV format for further analysis.
Get More Help with Creating Form for WordPress
Elfsight's responsive plugin makes creating forms for your WordPress website easy and efficient without any necessity to deal with platform HTML code. If you have any further questions, there are several options available to assist you, including:
Please accept the appreciation for taking the time to read the blog post. Hoping it was a use and looking forward to your next visit!